Links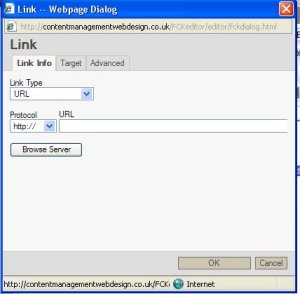 Links can be used on both text and images. And can be internal and external. External Link - (a link to someone elses site).
Highlight the text you want to link and select the link button.
Type in the URL of the site you wish to link to and click target.
Select New Window(_blank).
Click the link below to see an example:
If you want to link within your website from one page to another use
Same Window (_self).
To do this click normal mode, and then go to the page that you want to link to (or end up at) then copy the address bar. Go back to the page you want to link from and highlight the text and then choose link button then paste in the url and then choose target, same window self. ok
Example
Click the link below and you will be taken to the home page of this site:
Image Links
Image links are the same as above but select the image then follow either external or same window.